Trace gases
Trace gases
Measurements of trace gases – water vapour H2O, carbon dioxide CO2 – are made at 10 Hz using a Licor LI-7500 Open Path CO2/H2O Gas Analyzer. Atmospheric pressure is also recorded by the sensor.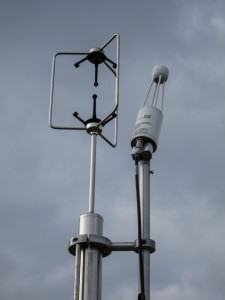 The Licor gas analyzer sensor (on the right), mounted adjacent to the Gill windsonic anemometer within the Atmospheric Observatory, photographed March 2016. Photograph Copyright © Stephen Burt.
PERIOD OF RECORD AVAILABLE
Record commenced summer 2015.
How to request climatological data from the Observatory
Sensor manufacturer links:
LI-7500RS Open Path CO2/H2O Gas Analyzer
Operational notes or changes:
This page updated January 2018