News and events
DEPARTMENTAL SEMINARS
Click the link for our termly seminar programmes
Check out our latest departmental blogs:
Students, staff and the local community turned up on campus to show their support for Professor Ed Hawkins and Professor Peter Miskell who took part in the 'Running Out Of Time' Relay on Friday 7 October 2022; helping to deliver a message of climate action as part of the University of Reading's contributions to tackle human-caused climate change
LATEST RESEARCH NEWS
Reading in top 200 Universities globally and 4th best for Atmospheric Sciences
The department is central to a renewed and strengthened Met Office Academic Partnership (MOAP) as part of an expanded initiative to understand the increasing impacts of extreme weather and climate change.
New research led by Kieran Hunt has for the first time indentified a causal link between the North Atlantic Oscillation and winter precipitation over the Western Himalaya, of great importance to the year-round water supply for Indian agriculture
Department scientist wins prestigious American Meteorological Society Award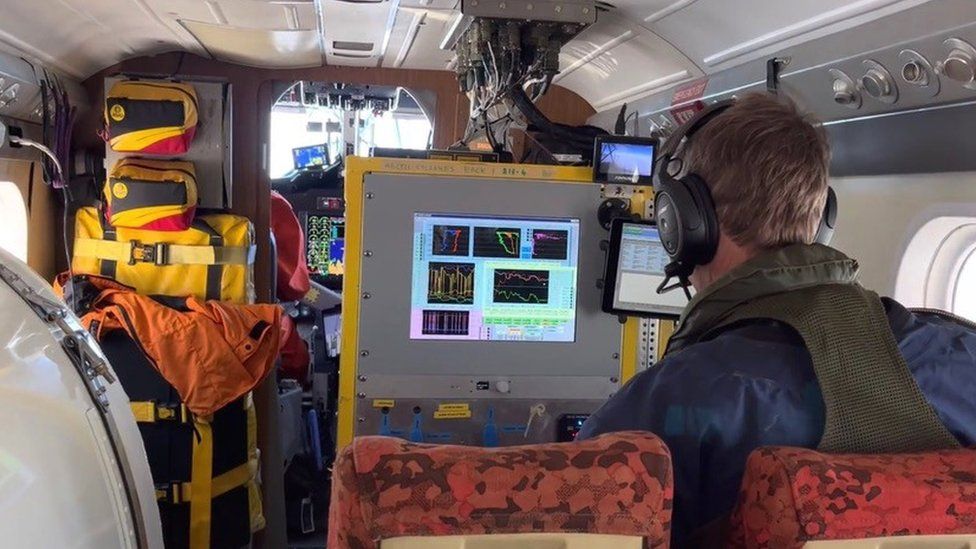 Researchers from the University of Reading are involved in an important field campaign to understand how summertime Arctic cyclones affect, and are affected by, sea ice and their role in the rapidly changing climate
Our department building has been named after Professor Sir Brian Hoskins. A member of the University of Reading since 1971, including as Head of the Department of Meteorology between 1990-96, Sir Brian began the Department's growth into the major global force it is today. It was under his leadership that the conception, planning and construction of the Meteorology Building that will bear his name began.
Department scientists contributed to research published in the journal Science showing the Hunga Tonga volcano in the South Pacific created an explosion bigger than anything else ever recorded by modern geophysical equipment.
Important new research involving Associate Professor Michaela Hegglin has revealed that changes to ozone levels in the upper and lower atmosphere were responsible for almost a third of the warming seen in ocean waters bordering Antarctica in the second half of the 20th century.
Professor Ed Hawkins, Rainfall Rescue Project Lead, said: "I am still blown away by the response this project got from the public. Transcribing the records required around 100 million keystrokes, yet what I thought would take several months was completed in a matter of days."

The University of Reading was presented with a prestigious Queen's Anniversary Prize in a ceremony at St James's Palace in London attended by joint head of the Department, Professor Joy Singarayer.
New research led by Department of Meteorology professors advances understanding of how electric charge influences cloud drop growth that can ultimately lead to rainfall
Future risks from climate change affecting the UK have been mapped in a new interactive website as part of work led by Prof. Nigel Arnell
Reading researchers, led by Dr Christopher O'Reilly, have found that climate models may be underestimating the impact climate change will have on the UK and North America due to a missing element – wind variability.
Research led by Dr Caroline Wainwright investigates how tropical wet and dry seasons change as climate warms

The report, which warns that damaging effects of climate change are already being seen across the globe and featured prominently in the COP26 climate negotiations in Glasgow
2021 Distinguished Edith Morley Seminar – Dr Florence Rabier, Director-General of ECMWF, delivered the Distinguished Edith Morley Seminar 
Thousands of citizen scientists have combined to rescue more than 5 million rainfall records in just over a fortnight to help improve understanding of Britain's weather – and get a new take on its social history.
 His Excellency Mansoor Abulhoul, Ambassador of the United Arab Emirates to the UK, paid a visit to the University of Reading's world-leading weather scientists this week.
Department scientists play leading role in climate change research and communication
New research improves understanding of the link between extreme space weather and the solar cycle
Two national science centres for the study the Earth's atmosphere, oceans, land and ice, both with key groups at the University of Reading, have been certified as world-leading
New research on how weather influences renewable electricity production
Our scientists provide expert assessment of how changes many kilometres above our heads have a bearing on weather patterns over the next few weeks
New research led by Professor Jonathan Gregory has demonstrated how climate change could lead to irreversible sea level rise far in the future as temperatures continue to rise and the Greenland ice sheet continues to decline
a new study involving members of the department argues that the UK's approach to dealing with heatwaves is inadequate compared to visible, yet far less deadly, disasters like floods and storms.
The University of Reading has joined an international coalition of leading climate research universities in issuing its first declaration ahead of the G20 Summit
Professors Rowan Sutton, Ted Shepherd, Nigel Arnell and Pier Luigi Vidale contribute to Is the UK on track to adapt to climate change? conference, jointly hosted by the National Centre for Atmospheric Science (NCAS), the UK Climate Resilience programme (UKCR) Champions and the Committee on Climate Change (CCC).
Internationally renowned climate scientist Professor Keith Shine has been awarded the Mason Gold Medal, the premier award of the Royal Meteorological Society
Dr Dacre, Associate Professor of Dynamical Meteorology at Reading, received the FitzRoy Prize for her leading research on volcanic ash clouds and their risk to aviation.
Dr Joanne Waller was jointly awarded the L F Richardson Prize for her innovative research, undertaken while in the department, into better understanding uncertainties in weather forecasting methods, and how doing so can improve weather predictions.
Solar storm analysis carried out by an army of citizen scientists has helped researchers devise a new and more accurate way of forecasting when Earth will be hit by harmful space weather.
NEWS ARCHIVES
2019
Our speaker for the Seventh Annual Distinguished Morley Seminar was Professor Gwyneth Stallard, OBE, Professor of Pure Mathematics at the Open University. The Seminar was held on Wednesday 23rd October 2019.
2018
Research Engagement and Impact Awards for Professor Paul Williams and also Professor Ed Hawkins and Stephen Burt
2017
RECENT DEPARTMENTAL EVENTS
Our Changing Climate: Past, Present and Future – Public Lecture by Professor Ed Hawkins in the Palmer Building, Wednesday 17th October (View lecture)