Activities
Here is a selection of recent and upcoming outreach events to which members of the Meteorology Department contribute. (Back to Outreach Page)
2023
August 18th – Hannah Cloke interview with the Royal Society:
---
2021
17 December – ELEPHANTS ON THE MOVE
16:30-17:30
Children's Christmas Lecture
Presented by Dr Vicky Boult
G10, Palmer Building
Whiteknights campus
Elephants are always on the move! Looking for food or water, going to meet friends or moving away from danger.
Join Dr Vicky Boult, an expert in all things elephant, on a journey alongside a family of elephants over the course of a year in their lives. We'll meet the members of the herd, explore why and where they move and how this is changing. Expect drama, difficult decisions and lots of laughs along the way!
Admission free. Booking essential.
Suitable for children 7-12 years.
To book your place, visit www.reading.ac.uk/events
7 June The Weather Game
returns for another friendly round. Newcomers and return competitors are welcome to try out their weather forecasting skills and fight their way to the top of the leader board. There are a few nice prizes too!
This activity gives school pupils and weather fanatics a glimpse at the science used on television forecasts or to monitor impacts of climate change. A number of high-profile TV weather forecasters like Laura Tobin (pictured below) and Tomasz Schafernaker made some of their first forecasts while they were students at Reading.
Forecasts from leading sources like the Met Office and BBC Weather can be used as a basis for predictions, but players are encouraged to follow their own intuition on where weather might differ from what is expected. For example, if changeable weather is certain or there is only a small chance of showers, going against the expert forecasts for sunshine and rain might earn you the points.
Entrants will make predictions on the temperature, precipitation and sunshine hours for three fixed locations: Reading, UK; Toronto, Canada; Hong Kong, China and also for another city that changes weekly. While travel is off the cards for most of us this year, experiencing the weather is something that connects us all.
Full details are on The Weather Game (reading.ac.uk) and registration opens on 7 June with six weekly forecasts due by Fridays 19:00 BST

---
2020
July – The Weather Game This friendly competition developed by Department of Meteorology scientists was opened to the public for the first time. It saw entrants from around the world try and predict accurate weather forecasts over six weeks.
13 March – British Science Week – Climate Change – Ask Me Anything!   Pupils joined the live audience from Oakbank School and Robert Mays School. Online questions from Bohunt Wokingham and others. Some of the questions and answers are found in the Research Blog post
18-19 February – Year 12/13 Meteorology Taster Programme – a two day event to highlight some hands on maths and physics based activities; climate change; space weather; including a tour of the atmospheric observatory and a live weather balloon launch.

2019
29 October – Year 12/13 Meteorology Taster Day – an opportunity for A level students to visit the department and discover what study and work in this field could be like. Applications can be made via: https://www.reading.ac.uk/forms/crm/subjecttaster.aspx
30 April – The Royal Society Kavli Medal and Lecture 2018 delivered by Professor Ed Hawkins – Our changing climate: learning from the past to inform future choices. The Royal Society, London 6.30-7.30pm (free entry – doors open at 6pm – seating on a first-come basis, no registration required)
Annual global temperatures from 1850-2017. The colour scale represents the change in global temperatures covering 1.35°C. Image courtesy of Professor Hawkins
The long hot, dry summer of 2018 was a reminder that our society is vulnerable to unusual weather, through risks to human health, aging infrastructure, transport disruption and lower crop production. Such heatwaves are now hotter than in the past because the planet has warmed over the past century, largely due to human-caused emissions of greenhouse gases. Other consequences of a warming world include extreme rainfall events becoming more frequent and rising sea levels as the oceans expand and the glaciers melt.
This lecture will outline how our climate has already changed and how volunteer "citizen scientists" are helping us improve our understanding of extreme weather by recovering millions of lost historical weather observations that were taken over a century ago. Further changes to our weather and climate are inevitable, but it is our collective choices that will define what happens next.
6 March – Portcullis Trust, Richmond, is held a fundraising evening talk by Richard Allan on The Science of Climate Change
5 March – Clare Watt – Space Physics Assembly at Holt School Wokingham, as part of National Career Week
27 February – 'Space Blitz: Discovering the hidden impacts of WW11 bombing raids' – Coinciding with the anniversary of the British raid on Dresden, historian Patrick Major and space scientist Chris Scott explored two different impacts of Second World War bombing raids.
19-22 February – The Meteorology Department and Met Office Work Experience Programme – will give 36 x Year10-13 pupils from a range of schools an opportunity to find out what work, study and research is like within this field.
5 February – Maiden Erlegh Trust opened its doors to its largest careers fair to date. Javier Amezcua represented the department and drew in the pupils with thermal camera activities.
4 February – Find Your Future was a subject taster day for Year 9-10 pupils, the theme this time was Climate Change. Nicolas Bellouin demonstrated how infrared radiation depends on temperature
4 February – The Physics A level pupils at Kendrick School were given a Space Weather presentation by Clare Watt
3 February – Steve Woolnough was a guest speaker at the Wiltshire Cricket Groundsman's Association AGM, they are now better informed about recent climate conditions and forecasting.
24 January – Richard Allan ran a climate change outreach activity for 60 x Year 7/8 pupils at Northcote Lodge School (Wandsworth)
16 January – Nicholas Klingaman gave a lecture on tropical cyclones to Oxford Geographical Association – KS5 and teachers
2018
27 November – The Flooding From Intense Rainfall Programme Open Event was held at The Royal Society in London. Professor Sarah Dance and Professor Hannah Cloke and their project teams showcased the work of this five year project to around 150 guests including stakeholders, interest groups, representatives from flood prone areas, town councils and parliament.
17 October – Our Changing Climate: Past, Present and Future – Public Lecture by Professor Ed Hawkins (Watch lecture)
14 October – Science Festival – If Festival, Oxford Town Hall, Graeme Marlton
9 October – Luke Barnard gave a career talk at Henley College
3 October – Royal Meteorological Society SE meeting hosted a lecture by Helen Dacre
27 August – Giles Harrison and Graeme Marlton recreated a historical balloon ascent with radiosonde
24 August – At the Greenbelt Festival, Northamptonshire, Claire Macintosh had a science stand with hand held weather data gathering kit. Around 800 people visited the stand.
25 July – The Jenner Museum in Berkeley, Gloucestershire, hosted an evening public lecture on Lightning given by Professor Giles Harrison
18 July – Matthew Couldrey gave an overview of climate change and sea level rise to the guides at The Living Rainforest, nr Newbury
8 July – The Worshipful Company of Scientific Instrument Makers enjoyed a lecture on the history of the Stevenson screen, given by Stephen Burt
25 June – Ellie Highwood took a team of volunteers to Woodley CofE Primary School for their Science Day
23 June – RMetS Careers Information Day in London including a lecture on Sting Jets by Ambrogio Volonte
20 June – The Meteorology Department hosted 60 Year 9/10 children from 5 schools from the South East for a Meteorology Taster Day, How do we predict the weather? (see also review by Abingdon school)
19 June – The year 3 children of The Coombes Primary School were given a lecture/ presentation on the water cycle and flood exploration by Sanita Vetra-Carvalho
9 June – A lab workshop session was given by Javier Amezcua at the 2018 Open Day of the National Oceanography Centre, Southampton. There were around 5000 NCEO attendees from Surrey and Leicester
7 June – Talk by Richard Allan on Climate Change for Bohunt Wokingham School Year 8 students
3 June – Big Band Big Lunch: Met staff engaged with young members of the public at this University event that included activities such as clouds in a bottle and drawing the weather

1 June – Roger Brugge gave a presentation on the atmospheric jet stream at the AGM of the Newbury Astronomical Society
25 May – Javier Amezcua and Lee Hawkness-Smith joined the Science Spectacular at Southcote Primary School. Their activities involved giant bubbles and saving an egg with a parachute.
23 May – Virtual Open Day: Richard Allan presented a live online talk about Meteorology and Climate Change to Year 10 students across the country
20 April – Space presentation and Q&A session at Farley Hill Primary School by Clare Watt
16 April – Roger Brugge observed and plotted weather and talked about weather codes with KS1/2 children at The Heights Primary School, Caversham
26 March – Talk on 'Climate Change: What we know and how we know it' given by Bill Collins at U3A
14-15 March – Matt Owens gave a talk on Space Science and Life as a Scientist at Thameside Primary School
21 February – Talk on One Hundred Years of Reading Weather to the Caversham Heights Society by Stephen Burt
20 February – Dan Hodson and Michelle Felton spoke about being an Environmental Scientist at Aldyngton Primary School during their Careers Week
13-16 February – Work Experience Programme – 36 Yr10-13 students from across the country attended this year
6 February – Tristan Quaife represented the department at the Maiden Erlegh Careers Fair
1 February – Ambrogio Volonte gave a lecture on Sting Jets to Sherfield School
31 January – Ellie Highwood and Javier Amezcua attended Kendrick School STEM Conference
17 January – The University of Reading and Richard Allan delivered The Science of Climate Change Workshop to 90 Year 9 pupils.
16 January – Giles Harrison gave a public talk at Abu Dhabi Sustainability Week
2017
1 November – Richard Allan talked about the DEEP-C project and whether global warming paused at a St Anne's College discussion group at the University of Oxford
October-December – Contemporary Climate Science course delivered by Dr Charles Williams at University of Reading London Road campus
26 October – Ed Hawkins talked about Climate Change and The Weather Rescue Project to the Bradfield College Cafe Scientifique
5 September – Thorwald Stein provided a lecture on clouds to Cafe Scientifique, Salisbury
The Met department contributed to this exhibition exploring the science and technology of "twisty-turny stuff" in, on, above and beside Reading's rivers. Thermals, eddies, tornadoes, waterwheels, millstones, spirogyra, DNA, twisting plants, spinning and turbines have all affected Reading, its river dwellers, monks and red-kites one way or another!
28 July – Roger Brugge hosts Pride of Reading winner in the Department
June-July 2017 – Atmospheric Observatory guided tours
6 July – Meteorology outreach talk at The Coombes Primary School by Graeme Marlton and Javier Amezcua
5 July – Keith Shine talked at Reading Cafe Scientifique (British Science Association)
4 July – STEM Big Bang Careers and Apprenticeships Day at Leighton Park School. Amos Lawless talked about Maths and weather forecasting to Years 10-13.
3-9 July – we contributed to the Royal Society Summer Exhibition Royal Society, London
1 July – Royal Institute of Mathematics Masterclass by Sammie Buzzard
14 June – Codefest 2017 at Caversham Primary School. Hilary Weller helped Year 6s to use coding and maths to forecast how long it will take for rain to arrive
14 June – How do we predict the weather? The department hosted around 40 pupils from regional schools for a day of observing, understanding and predicting the weather
9 June – Keith Shine presented at the "Time for R32" Mitsubishi event on halocarbon emissions, Manchester
27/4/17 – Sun Protection Summit public lecture, Bruxelles by Michaela Heglin
7/4/17 – Talk to Geology and Geography Students at Stoke-on-Trent Sixth Form College by Laura Wilcox
22/3/17 – Ed Hawkins FaceTimed with 10-11 year olds about climate change
March 15th 2017 – Richardson forecast Factory for Reading Maths Scholars led by Javier Amezcua
March 15th 2017 – Observing the weather and flying into the eye of a storm – John Methven visited St John's Primary School, Reading

March 15th 2017 – Roger Brugge visited Harmans Water school, Bracknell
March 13th 2017 – Pete Inness attended the Peter Symonds College careers event
March 13th 2017 – Giles Harrison talked to Dauntsey's School pupils about Environmental Physics and presented a public lecture to the local Physics society
13/3/17 – STEM for Britain poster at the House of Commons (Arathy Menon)
8/3/17 – Theale Green School 6th Form Question time (Laura Wilcox)
7/3/17 – Lecture for Liverpool Geologists Society by Helen Dacre
6/3/17 – Environmental Physics & Meteorology Career talk by Bill Collins
3/3/17 – Time for R32 talk on greenhouse gases at Mitsubishi Electronics (Keith Shine)
20/2/17 – Emma Irvine ran a forecast factory for year 9s at the University
February 15th 2017 – One Hundred Years of Reading Weather local talk by Stephen Burt
February 13th 2017 – Ross Reynolds talked about the work and history of the department to the Reading group of the Civil Service Pensioner's Alliance at Greyfriar's Church
February 7th 2017 – Maiden Erlegh School Careers event (Roger Brugge)
February 3rd 2017 – Your Future in Space
Environmental Physics & Meteorology Career talk by Clare Watt at the Godolphin and Latymer school
February 1th 2017 – Climate change and UK Response – local talk by Brian Hoskins
January 26th 2017 – Climate Science from a Climate Scientist – Richard Allan talked to the John Hall Venice course at the National Gallery
January 25th 2017 – Graeme Marlton and Javier Amezcua amazed Farley Hill Primary with the thermal camera and clouds in a bottle
January 19-26th 2017 – ORSA Meteorology mission – Ellie Highwood ran sessions on clouds and wind at Oxford Road community school
January 18th 2017 – Climate Zones at Whiteknights Primary – Ellie Highwood explored with Year 4s
January 17th 2017 – career fair at Reading School (Roger Brugge)
2016
December 17th 2016 – Roger Brugge spoke at Reading School careers fair
December 14th 2016 – Magnificent Maths Day
Javier Amezcua contributed to this Maths-fest with topics includding cops and robbers on graphs, polymer maths, from crime scene to court, forecast factory, and infectious disease!
December 2nd 2016 – Environmental Physics careers talk
Giles Harrison visited Marling school
December 1st 2016 – Pete Inness talked about the weather to Year 8s at Reading school
November 23rd 2016 – Science talk to Dr Jenner's House by Giles Harrison
November 22nd 2016 – "Your future in space"
Talk by Clare Watt to Barton Peveril 6th Form College, Eastleigh
November 8th 2016 – Cool Clouds interactive class
Ellie Highwood visted St. Nicholas Primary school
November 1st 2016 – Highgate Literary and Scientific Insitute talk by Keith Shine
October 2016 – NERC In To The Blue event in Manchester
Department members including Claire MacIntosh, Jan Fillingham, Javier Amezcua, Till Kuhlbrodt and Andy Turner, through NCEO and NCAS, helped inspire thousands of visitors by bringing alive the world of environmental science and research
July 2016 – Meteorology Observatory Tours
Roger Brugge led a number of tours for the public and also members of the University Council
5 July 2016 – Moving on Day at Sixth Form College Farnborough
Richard Allan talked about our Environmental Physics and Meteorology degrees
1 July 2016 – Richard Allan contributed to CODEFEST at Caversham Primary School
June/July – Oxford Road Primary School STEM visit
25 June 2016 – Alumni Homecoming Event at the University of Reading (sold out)
6 May 2016 – Sue Gray talked about weather forecasting to Loddon Primary School
4 May 2016 – Fairbrother Lecture 2016: "A slippery situation: melting ice in Antarctica"
Sammie Buzzard discussed some of the key issues around climate change and the collapse of ice shelves in Antarctica
28 April 2016 – "Not the End of the World but… A Christian Perspective on Climate Change"
Peter Cook is presented a talk as part of Christians in Science at Bill's Restaurant in Reading town centre. Registration now closed.
13 April 2016 – Visit to the Observatory by Years 8/9 from Chiltern Way Academy
11 April 2016 – Talk on Weather and Climate Change to the Institute of Agricultural Managment Thames Valley Branch (Richard Allan)
1 April 2016 – Visit by Pete Inness to Year 8 Geographers at Reading School to talk about the weaher
1 April 2016 – Matt Owens talked about Meteorology and Environmental Physics to Worksop College
1 April 2016 – Observatory visit schools outreach by Roger Brugge and the IEA.
Charles Williams and Adrian Champion discuss the basics of the climate system, how it has varied in the past and how it will change in the future and consequently impact society
31 March 2016 – Atmospheric electricity and high energy particles.
Giles Harrison was the invited speaker at the Institution of Engineering and Technology (IET)regional evening meeting in Newport, Isle of White
16 March 2016 – Ellie Highwood visited the 1st Lower Earley Beavers
2 March 2016 – Visit by Javier Amezcua to Year 1/2 at Coombes Primary School
Stephen Burt was involved in advising upon, curation and photography for the exhibition 'John Constable: Observing the Weather' at The Lightbox gallery in Woking. John Constable was greatly influenced by early meteorological science, particularly Luke Howard's work on cloud nomenclature and taxonomy, and the exhibition includes early meteorological texts and weather diaries including Howard's own MS diaries and published volumes from the Royal Meteorological Society's archives. The University and the Department of Meteorology is credited.
16-19 February 2016 – Work Experience Programme
10th February 2016 – 100 Years of Reading's Weather
Stephen Burt and Roger Brugge presented to a packed audience at the Palmer Building in the University of Reading about Reading's weather history using meteorological measurements from the University and a combination of archived logbooks, contemporary photographs and today's sophisticated automatic weather observations
3rd February 2016 – Environmental Physics Careers talk by Keith Shine to Marist School in Ascot
2nd February 2016 – Maiden Erleigh careers fair
28th January 2016 – Javier Amezcua visited Longcot and Fernham primary school to talk about the weather
11th January 2016 – Sue Gray gave an Environmental Physics careers talk to Forest School
2015
15th December 2015 – Visit to Crossfields School to celebrate Tim Peak's arrival at the ISS
The department hosted around 70 pupils from local schools for a day of observing, understanding and predicting the weather
8th December 2015 – Ross Reynolds presented a careers talk at Barton Peveril College in Eastleigh
1st December – UTC Lab sessions at the University
30th November 2015 – Junior Climate Workshop in Whitchurch
Nigel Arnell and Brian Hoskins ran a simulation of the COP21 climate negotiations for local school pupils
26th November 2015 – "Chasing Ice" Climate Change event
Nigel Arnell led a Pangbourne & Whitchurch sustainability group (PAWS) event and talked about the upcoming COP21 conference in Paris
25th November 2015 – "Electricity Everywhere" Autumn evening lecture
November 23rd 2015 – The World of Physics event at the University
October 22nd 2015 – Aviation effects on climate
Keith Shine discussed the non-CO2 effects of aircraft emissions on climate at the Royal Aeronautical Society
26th September 2015 – Giles Harrison contributed to the Cloud Appreciation Societyconference
23rd September 2015 – The man who took Stroud's temperatures
A local history society talk at Oakridge Village Hall by Giles Harrison
Richard Allan talked at RISC on Global Climate Change Oops – we lost some data…
School Physicist of the Year event at the University
July 2015 – 3D printing workshop at Ridgeway and Whitley Park primary schools
2nd July 2015 – Clare Watt attended a STEM careers event at Queen Mary's College in Basingstoke
1st July 2015 – BigBang@Westking in Central London
10/11th July 2015 – Meteorology Department 50th anniversary open day events
27-23rd June 2015 – Impact forecasting and risks of the future
Joaquim Pinto presented public talks in London and Zurich
14th June 2015 – the department attended the East Reading Festival
12th June 2015 – Public tours of our atmospheric observatory
1st June 2015 – KS2 Climate Science and IT talk at Whitchurch Primary school
15 May 2015 – Robin Smith talked to Whitchurch Primary KS1 about climate and weather
9 May 2015 – Activities were on offer at Reading School's Spring Fair
22 April 2015 – Measuring atmospheric electricity in Antarctica
Keri Nicoll talked to George Watson's College in Edinburgh about her trip to Antarctica
Jon Shonk presents a 10 week Continuing Education evening course at the University of Reading London Road campus
30 March 2015 – Nick Klingaman talked about Extreme Weather and Climate Change to the Farnborough U3A
24 March 2015 – The Taunton School became a forecast faactory for the day
21 March 2015 – Paul Williams delivered a lecture on climate change at the Marlborough Science Fair
21 March 2015 – Science Slam 2015 at South Street Arts Centre
On Friday 20 March 2015 there was a rare near-total solar eclipse visible from the UK. The Department of Meteorology ran activities for local schools to help them learn more about the science and folklore behind this natural phenomenon, and the weather changes that may accompany it.
18 March 2015 – The weather at war: public lecture by Andrew Charlton-Perez
Together with the Met Office, and the European Centre for Medium Range Weather Forecasts, we have developed a three day programme to provide first-hand experience of working and studying in meteorology and environmental physics.
16th February 2015 – Andrew Barrett talked to the Farnborough U3A about weather forecasting
Claire Barber ran an observations-themed stand with contributions from the RMetS as part of the Bright Sparks Saturday event.
11th February 2015 – Roger Brugge talked about the weather to Walberton and Binsted Primary School
3rd February 2015 – Maiden Erleigh School Careers Fair
2nd February 2015 – Roger Brugge talked to Garland Junior School
29th January 2015 – Rob Thompson talked to St. Mary and All Saints Primary about the weather
20th January 2015 – Matt Owens presented the science behind the film "Interstellar"
---
2014
10 December 2014 – Sue Grimmond talked about her work to more than 100 15 year-old students at the South-West Weiyu Middle School in Shanghai, China.
27th November 2014 – Careers Fair at Furze Platt Senior School, Maidenhead
21st November 2014 – Roger Brugge provided weather related talks and activities to Year 6 students at Manor Primary School
19th November 2014 – Clouds in a bottle at St. Nicholas Primary School
12 November 2014 – "Extreme weather and climate change: Should we blame ourselves?"
Nicholas Klingaman talks at Bournemouth University.
12 November 2014 – Careers fair at Reading School
11 November 2014 – Rob Thompson talked to Grazely Primary School about weather around the world
10 November 2014 – "Weathermen at war" by Andrew Charlton-Perez (Cafe Scientifique, Reading)
7 November 2014 – "The Science of Snow Crystals" RMetS talk by Mel Sandells
5 November 2014 – Big Physics Lecture to Key Stage 5 students
17 October 2014 – Roger Brugge presented weather-related talks and activities to Year 8 pupils at St. Richard Reynolds Catholic College in Twickenham
7 October 2014 – "Extreme weather and climate change: Should we blame ourselves?"
Nicholas Klingaman talks at Oxford branch of the Geographical Association (5pm at St. Edward's School, Oxford).
1 October 2014 – Adrian Champion talks at the DONG Energy Customer Day about Climate Change
30 September 2014 – Dawn Turner attended a careers fair at Emmbrook School, Wokingham
17 September 2014 – Ray Bell talked on extreme weather at Cafe Scientifique, Henley
21st August 2014 – University of the Third Age (U3A), Maidenhead.
A visit from a group of retired Scientists and Engineers for a series of mini presentations on weather and climate research and a tour of the atmospheric observatory.
2nd July 2014 – Global Warming and Extremes of Weather
Richard Allan talked to Year 12 students from Sandhurst School
24 June 2014 – Extreme weather and the latest climate change science
Richard Allan provided a presentation for the Highworth PROBUS club
Over 30 school pupils attended our annual Meteorology activities day which included a weather balloon launch, tour of the field site, experiments in the fluids laboratory, using hand held instruments and becoming part of a human computer to forecast the weather.
17th June 2014 – Extreme Weather: Climate Change in Action?
Stephen Belcher joined a Panel Discussion at the British Library
June 9-11th 2014 – SEPnet GRADnet Summer School at NPL
Ed Hawkins and Andy Turner presented "Modelling today; leading tomorrow" and a "Climate & Weather Workshop"
June 8th 2014 – Antonio Portas and Sammie Buzzard attended the East Reading Festival
June 3rd-8th 2014 – The department attended the Cheltenham Science Festival
June 3rd 2014 – Extreme weather talk at Bradfield College
Adrian Champion presented a Cafe Scientifique talk about extreme weather.
May 31st 2014 – Feel the Force: Hurricanes and other Hazards
Ray Bell helped kick off the start of hurricane season by contributing to a public event aimed at providing engaging science activities and safety tips from the experts.
20th May 2014 – Chris Scott and Hannah Prior presented a Planetarium Talks at Crossfields School
9th May 2014 – Ray Bell talked to Risk Management Solutions Inc. about research on hurricanes
6th May 2014 – Visit from the Earl and Countess of Wessex
2nd May 2014 – Chris Scott talked to the Newbury Astronomical Society
27th April 2014 – Averil Macdonald attended Science Fun Day, Dauntsey's Primary School
24th March 2014 – Roger Brugge presented weather related talks and activities to Year 3 from Greenfields junior school
25th March 2014 – John Methven visited Langtree Secondary School, Woodcote
20th March 2014 – Averil Macdonald attended a Communicating Science Workshop at Kings School Canterbury
19th March 2014 – Mel Sandells and Laura Stewart attended the Reading College Celebration of National Science Week
10th March 2014 – Ross Reynolds talked about careers in weather at Peter Symonds' College, Winchester
1st March 2014 – National Science Week activities at Ridgeway Primary School
Chris Scott presented space themed talks/actities for 4-11 year olds.
Richard Allan presented our current understanding of the recent slowing in global surface temperature at the RMetS South East local centre meeting (see slides).
March 4th 2014 – AWE Aldermasten Environment Conference
Adrian Champion talked about Global Climate Change and Local Impact.
26 February 2014 – Weather activities with the Hanborough and Freeland Cubs
Graeme Marlton talked about what drives weather systems and provided hands-on activities to help cubs work towards their meteorological badge.
Richard Allan talked about the weather to Year 3 who attempted to blow as fast as Usain Bolt, create a "tornado" in a bottle and learned about thunderstorms and hurricanes.
20/21 January 2014 – Talk on climate and weather at Lambs Lane Primary school
Roger Brugge compares climate and weather between the UK and Spain for Key Stage 2.
2013
18 December 2013 – A-level Maths Day Forecast Factory
Javier Amezcua and Neil Hart turned students into a human weather forecast computer simulation.
Giles Harrison led a band of intrepid researchers to talk to the aviation industry.
1 November 2013 – Nicky Howe attends National Space Centre Leicester careers festival
16 October 2013 – Meteorology Technology World Expo 2013, Brussels
Giles Harrison talked about radiosonde cloud and science measurements.
15 October 2013 – Talk on tropical variability to a local RMetS group
Pete Inness talked about the Madden-Julian Oscillation and its impacts on medium range weather forecasting to the Scottish branch of the Royal Meteorological Society
11 October 2013 – Giles Harrison talked about Atmospheric Electricity at an Elektor Expert meeting in Germany
27 September 2013 – Giles Harrison talked about atmospheric electricity and high energy particles to the Vectis Astronomical Society
24 September 2013 – Year 12 Symposium on Weather and Climate
School students and teachers from around Berkshire participated in a mini-symposium covering the latest weather and climate research conducted in the department and at MetOffice@Reading presented by Nigel Roberts, Richard Allan (see talk), Oscar Martinez-Alvarado and Michel Tsamados and careers advice from Carol Halliwell and Dawn Turner.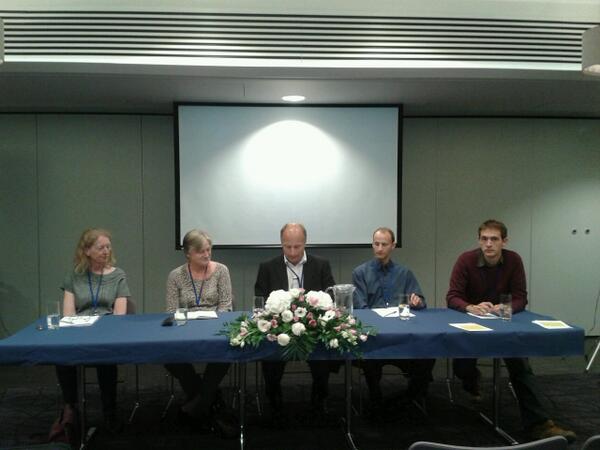 17 September 2013 – Engineering weather balloons for atmospheric science measurements
Giles Harrison presented an Institute of Engineering Technology evening public lecture at Lews College, University of the Highlands and Islands, Stornoway.
14 September 2013 – RMetS climate change panel
Ed Hawkins and Richard Allan joined Jo Haigh, Julia Slingo and Peter Stott for a climate change question time panel at the Royal Meteorological Society's Second Amateur Meteorologists' Conference
17 July 2013 – Year 12 Maths Summer School Forecast Factory
Emma Irvine and Kirsty Hanley ran a Weather Forecast Factory as part of the Maths Summer School organised by Calvin Smith.
Richard Allan talked with around 50 Year 6 pupils at Caverhsam Primary school about what inspired him to learn about Meteorology and Climate Change and his career as a University Lecturer.
The Meteorology Department recently celebrated the complete refurbishment of the Atmospheric Observatory site and buildings which are used extensively in teaching and outreach (more…).
Richard Allan talked on "Weird weather: Is this the new normal?" and Michel Tsamados is discussed "The Melting Arctic" at the Confronting the Climate Crisis Conference in London
7 June 2013 – Sending Teddy to Space!
Rob Thompson and Graeme Marlton explained to Purley primary school children what will happen as their Teddy Bear is launched into "space" by balloon…
19 June 2013 – Jon Shonk talked about our website weather data graphs at DataSift
Schools from around the South East converged upon Reading to learn about how weather forecasts are made in a hands-on activity packed day. This included a tour of the field site, a radiosonde balloon launch (see also the raw data (4MB) and slides), performing experiments with density current and rotating tanks, using hand-held meteorological instruments and becoming a human computer to forecast the weather. The Met Office provided a latest weather forecast which was, unfortunately, dreadful (in terms of the cold, wet and windy conditions on the horizon that is)!
May 2013 – Roger Brugge visited the Reading 58th Scouts group.
April-May 2013 – Introduction to Weather and Climate adult education class
(Richard Allan, Jon Shonk, Roger Brugge)
15 April 2013 – Climate Change: the facts and current thinking
Richard Allan Talk provided a talk on the Science of Climate Change and dealt with some excellent question from the 3 Counties Womens's Institute Science Group at Shalford Village Hall
23 March 2013 – Ted Shepherd talked on challenges in climate science at the University's Donor Day
20 March 2013 – Teaching Physics at The Vyne Community School, Basingstoke
Sian Lane attended a session with teaching staff dealing with how to teach Physics effectively.
20 March 2013 – The Holt School STEM Careers Fair
(Dawn Turner, Roger Brugge, Jeff Chagnon and Jane Lewis)
Claire Barber and other members of the department and NCEO attended the UK Space Agency stand at the Big Bang Science Fair in London. The aim was to explain about the uses of satellite technology in monitoring and learning about our Earth (photo courtesy of the UK Space Agency).
14 March 2013 – Ros Cornforth attended the Abingdon Four Schools Careers Convention
12 March 2013 – Head of department, Robin Hogan, demonstrates a range of exciting weather activities for Year 3 children at St Columba's College, St Albans.
8 March 2013 – Andrew Charlton-Perez provided a careers talk for Maiden Erleigh 6th formers
Dawn Turner coordinated the 2013 Work Experience programme for 32 participants who took meteorological measurements, including a tour of the Met Observatory and a weather balloon launch, became a weather forecast computer with help from the Met Office, toured the European Centre for Medium-range Weather Forecasts, conducted physics experiments and engaged in Weather and Climate Discussions.
13 February 2013 – Nick Klingaman talked at the Queen Mary College in Basingstoke
12th February 2013 – High energy particles and fair weather atmospheric electricity
Giles Harrison presented an evening lecture to the Astronomical Society at Cambridge University.
4 February 2013 – Maiden Erlegh Careers Fair
Dawn Turner, Roger Brugge, Jeff Chagnon and Jane Lewis attended.
21 January 2013 – Visit to Oxford Road Community School
Roger Brugge talked about weather in different climates to Year 3 pupils at Oxford Road Community School
January 2013 – Frontier Science Lectures
Department of Meteorology staff, including Matt Owens and Richard Allan (see PDF copy of talk), presented Frontier Science Lectures at the Association for Science Educators annual conference